By now you have seen the schedule for the 2014 World Series of Exercise, Rich White People Throwdown, Open.  The excitement is probably too much to contain.  Let me assure you… follow these steps and you will most certainly make it to regionals.  Where you will get last place.
Getting Ready for the Open.
1.  Get off the Steroids.  HQ tests for roids.  Sure, they test about .001 percent.  And their testing doesn't even catch most forms of PEDs.  But you don't want to take the chance.  You will lose most of your off-season gains, but also lessen the chance of breaking your hand on your girlfriend's face.
2.  Quit your "strength" cycle.  You don't want to be too big and bulky when 14.1 is revealed to have pullups.  Besides, it's almost a guarantee there won't be any squatting in the open.
3.  Shirtless photos for the webpage.  While you are at it, beef up those "PR" categories.  No one will believe your 1:30 Fran if you put your true back squat of 250 pounds on your profile.
4.  Start Stretching those Achilles.  You know there will a workout containing 2,500 box jumps.  If you step down, you lose.  Pogo that shit. YOLO.
Anyone else hungry for spaghetti? 
5.  Make up your excuse for quitting now.  After 14.3 is revealed to have snatches you will fall to 40,675th place in your region.  Of course you aren't going to finish the last two workouts… you will need a scapegoat.  Torn AC joint is a good one.  Maybe a pulled hammy.
6.  Practice your filming angles.  Your chin is no where over the bar on your butterfly pull-ups.  But with some advanced camera angles, and incredibly low resolution recording settings, you will fool HQ.
7.  Lure in the Talent.  Every gym has one person who is marginally good at something.  You must steal that person away with offers of free membership and a "For-Sure" ticket to regionals.
8.  Last Resort…Move to Africa.  People in Africa are dirt fucking poor.  There are hardly any white people there.  Africans don't lift heavy, they run.  And there is never running in the Open.  Easy Win.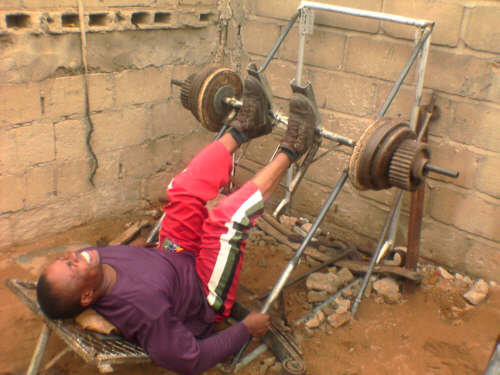 Leg presses are not functional… Africans suck at being fit.
P.S.  I added a link to upcoming competitions where strength and athleticism will be correctly measured.