Fuck yes, you do.
Mark Rippetoe said it (and he is the smartest man I know).  Weightlifting shoes are the only piece of equipment you actually need.  Those probably wern't his exact words, but I have read it in at least two of his books and on numerous posts of his on the intertoobs.  Here is my say…  If you don't own and wear weightlifting shoes but you take a protein supplement or "pre-workout" you are n00b.  I was guilty of it once.  I paid 50 or more per month for a pre-workout and that much or more for protein powders.  I spent over 100 per month on shit that wasn't making much of a difference.  Don't get me wrong about protein… Progenix will surely help recovery and shit like that, but those gainz pale in comparison to wearing lifting shoes.
What will weightlifting shoes do for me?
1.  Something Solid to stand on.  Does anyone remember those Reebok Zigs commercials with the super ugly, bouncy, foam sole of the shoe designed for functional fitness?  What a terrible fucking thing to lift weights with.  There is little I can think of that is as uncomfortable as lifting heavy weight whilst standing on a bosu ball (what i imagine it feels like wearing these shoes).  I had a friend who wore these and he could CJ 140 kilos in them.  Pretty impressive but imagine what he could have done with something solid to stand on.  Basically weightlifting shoes are designed with a wooden or rigid plastic sole with zero give.
2.  Lateral Support.  Those powerlifters with 1000 pound squats blow out powerlifting shoes.  If you squat properly and with enough volume you will eventually blow the sides out of any shoe.  The force that is driven outwards is immense.  cloth shoes will flex and therefore are for noobs.  Weightlifting shoes are made of thick leather with one or maybe two straps to ensure this stability.
3.  Depth in the squat.  Way way back in the days of weightlifting everyone split snatched.  It was seen as the most efficient way to get deep under a barbell.  The Soviets even had high top leather shoes specifically designed for it.  Then, someone determined it was much easier to just squat deeper.  Safer too.  So then a low top shoe with a raised heel was developed and the world never looked back.  (actually, there are a few people who still split snatch).  The raised heel is essentially what allows for the depth.  It compensates for your terribly poor flexibility in your ankles.
Shit you won't like about the shoes.
1.  Weight.  Thick leather, wooden soles, straps.  All this adds up to a heavyasfuck shoe.  Some people claim the heavy shoes slow their feet down.  I would tell them to get stronger legs.  They are heavier than a pair of hunting boots.
2.  Cost.  They are almost all over 100 dollars per pair.  Even used ones can be well over 100 dollars.  I blame the functional fitness community for this.  Their demand for the shoes has caused a shortage in the market.  I have paid full price for a pair of used Adistars from some Polish dude.  I have paid near full price for a pair of used Nikes.  All because they were sold out in every store in the world.  A smart shopper can find a used pair for around 100 dollars though.  I would encourage you to pass on your used shoes for free though.  I have passed on three pairs of my used shoes to new lifters now (free of charge).  The weightlifting Gods will surely find a place for me in their heaven because of that.
3.  Looks.  These are one step below bowling shoes in the fugly department.  I usually don't give a shit how I look.  But I take off my lifting shoes as soon as possible.  They are the most hideous looking things you can put on your feet.  They are brightly colored, have components added to them that make zero sense, and even Justin Bieber couldn't get laid in them if he wore them to a roller skating rink.  The only exception to this is the Adistar Weightlifters.
FAQ regarding shoes.  (People actually asked me these questions)
1.  Should I wear them when I deadlift?  I have been asked this 100 times.  Doesn't seem like a lot until you realize it's a fucking question regarding shoes.  The answer is yes.  Back when I was powerlifting a lot in the 90s deadlifting slippers were all the rage.  They were essential grippy socks.  The idea was… the closer you were to the ground, the less distance you had to pull.  Whilst this is technically correct, the knee angle and lateral stability you lose is not worth the 5/8″ extra distance you have to pull.
2.  Where do you find used shoes?  Ebay and Craigslist.  Ask around the club.  Chances are someone has an old pair laying around they would part with.
3.  Where do I find new shoes?  Google that shit.  Rogue.  Dynamic Eleiko.  Viking Weightlifting.
4.  Rippetoe says you can squat with a board under your heels.  True, this is a temporary fix until you can get shoes.  But moving your feet during the competition lifts is important.  And I don't like to try to find a board with my heels when i have 200 kilos on my back.
5.  How close to normal shoes do they fit?  I will cover this later.  But in my experience they fit just about the same or slightly larger than a street shoe.
Your Options.
Adidas Adistar.  If you can get your hands on these but them.  They are no longer made and only available used or in giant sizes like 16 EEEE.  They are the only shoe that somewhat resembles a decent looking shoe.  I own two pairs and I had to buy them both used from ebay.  I paid more than new of one of the pairs.
Cost.  159 doll hairs new.  If you can find them in your size.  100-220 used.  If you can find them.
Weight.  4/5.  Not a lightweight, but better most of the other styles I have used.
Firmness.  4/5.  Very solid platform.  Wish it had two straps though.
Heel Height.  4/5.  Seems a little low for me.
Appearance and Fit.  4/5.  I wear my Military boots in 9.5 extra wide and I wear a 10.5 in these.  So the whole rumor about Adidas shoes being narrow is false IMO.  They are also the only shoe that looks somewhat decent.  I would maybe go 1/2 size smaller if you cant try some on before buying them.

Adidas Adipower.  The Red Menace.  These shoes only come in bright red, with bright red accents and bright red everything else.  There is a touch of black on them somewhere, but you have to look closely.  That said, they are pretty easy to buy and probably the best NEW shoe out there.
Cost.  199 doll hairs new.  150-200 used.
Weight.  5/5.  They seem lighter than the adistars.  Probably the lightest shoe that is still worth buying.
Firmness.  4/5.  Again, only one strap.  But they fit so god damn well and are of the highest quality manufacture.
Heel Height.  4/5.  About the same as the adistar.  seems slightly low to me.
Appearance and fit.  4/5.  Only one color, communist red.  But they feel like you are wearing a slipper.  Really comfortable.  Sizes the same as an adipower.  So maybe go 1/2 size smaller than you think.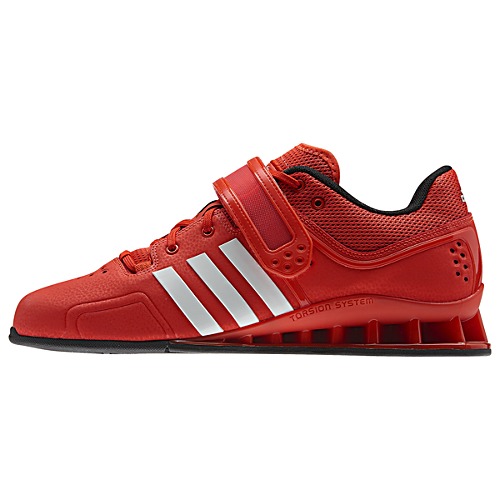 Nike Romaleos II.  I was very happy with mine.  I passed them onto a friend though, in favor of the Adidas.  The Chinese wear them.  They are fucking awesome lifters.
Cost.  189 doll hairs new.
Weight.  2/5.  Heavyasfuck.  Nike advertises they are 50 grams lighter than the previous generation.  The previous generation must have been made of lead.  How much is a gram anyway?  I'm no drug dealer but isn't that almost nothing at all?
Firmness.  5/5.  Probably the most stable thing you will ever wear.  Its like Robocop's foot.  Two straps as well.  I like that.
Heel Height.  5/5.  I love squatting in these shoes.  Heel seems perfect.
Appearance and Fit.  3/5.  At least they have some color options.  But the combinations are nothing to be desired.  They fit very close to street shoes for me.
Rogue Weightlifting Shoes.  Probably most functional fitness peeps' first weightlifting shoes.  They are inexpensive and have all the requirements of a weightlifting shoe.  I owned a pair a while back.  Actually made by Do-Win, and relabled as Rogue.
Cost.  119 Doll Hairs.
Weight.  3/5.  Heavy.  Wooden soles.
Firmness.  3/5.  Wooden soles may be heavy but they are firm.  leather is thick.  Two straps are a nice feature but could be placed better upon the shoe.
Heel Height.  4/5.  Seems a little short but is advertised as 3/4″.
Appearance and Fit.  3/5.  Pretty basic looking shoe.  Imagine a bowling shoe with a wooden heel. Fits larger than a street shoe.
Reebok Crossfit Lifter.  You can get them custom made in crazy colors and shit.  They still aren't cool.  They are designed to be an all purpose shoe.  I actually owned some of these when I did @fit.  They were stolen out of my car by a crackhead.  That crackhead is probably walking around, looking like a retard thinking he is wearing the new hotness.  They are still a better option than lifting in running shoes.
Cost.  149 Doll Hairs.  More if you want them custom designed.
Weight.  4/5.  Very light weight.
Firmness.  3/5.  One strap.  It is far too short though.  Mine would barely close.  Feels a little too much like a running shoe.
Heel Height.  4/5.  Heel seems about right.
Appearance and Fit.  2/5.  I ordered them in the same size as my street shoes and they were way too small.  The strap almost didn't meet the velcro and they seemed far too narrow.  There are colors that don't look ridiculous, but they are hard to find.
Other options I have not tried myself
–Risto Shoes.  These are old school.  They have been around forever.  I don't know enough about them to write.  Someone else have imput on these?
-VS Athletics Weightlifting Shoe.  These guys make all kinds of shit for track and field.  They are the cheapest shoes out there but again, I don't know enought to write about them.
-2013 Pendlay Weightlifting Shoes.  These are also Do-Win Shoes re-labled.  They are a new design for 2013 and I am excited to hear what you think about them.  (130 Doll Hairs).
-Adidas Power Perfect II.  I haven't tried them.  But my coach traded in his adipowers for some and he loves them.  He can lift way more than me so I would assume they are good shoes. (Cost.  119 Doll Hairs).